Well It's Monday so I thought we'd do another chart here, as I love looking at charts filled with lots of good information. The chart/graph below shows the various types of mortgage rates for the last 17 years: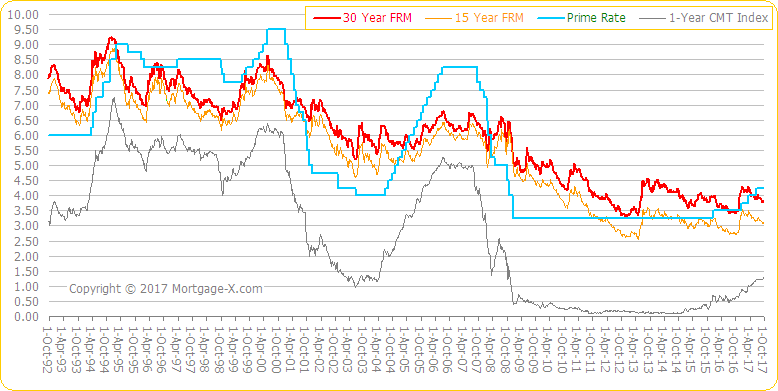 Mortgage Rate History
I'm concentrating on the Red and orange lines, which are the 30 year and 15 year fixed rate mortgage rates. If you just take a quick glance at them, you can clearly see that we are at the lowest rates, by far, in the last 17 years. In my opinion, if you can refinance your mortgage, this IS the time to do it. Don't wait. I personally feel this will be just about the lowest rates many will see in perhaps their lifetime. We are about 40% lower the the highs we saw in the early 1990's, and probably won't be going down any further from here.
Buy Outright, or Take a Mortgage?
Many people who have the cash to buy a home will buy the home outright. Sure, this will give you the piece of mind, knowing you owe nothing, and will likely never have a worry in the world about your home's affordability, however, it may not be the smartest move right now. If you can get a mortgage for 5%, it may be best to take it regardless if you can buy the home outright or not. Why? Inflation will likely go up quite a bit in the coming years. The FED will likely raise interest rates by quite a but over the next few years, meaning bank Certificates of deposits could possibly be paying an interest rate, in 2-3 years, higher then what you can take a mortgage out for today. f you can borrow $500,000 at 5% and get a
CD or bond
for 6%, you are making a cool $5000 a year profit. Just something to think about.

Conclusion
In my opinion, we have clearly struck a floor with interest rates, and anyone who hesitates on refinancing now, will likely regret it pretty soon.